Hello my lovely future brides!
As this crazy wedding season starts to slow down I have been super busy working on all the awesome things I have planned for next year.  As some of you may already see, I've given my marketing material a bit of a 'refresh'.  Last fall I launched a new look and just as business evolves I felt that my look needed a little bit of facelift.  I kept with my same logo and fonts but changed up the colour and graphics to brighten it up and keep with the current trends.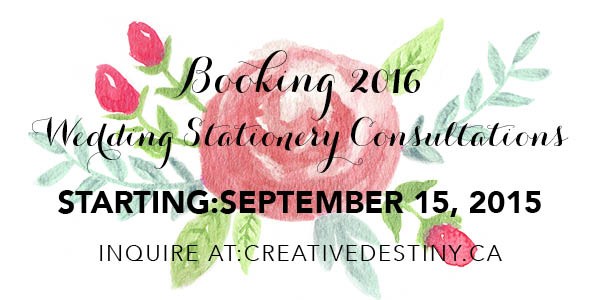 I know some of you are already wondering about next year.  I plan to start booking consultations for 2016 starting the middle of September. If you're interested, please inquire through this wedding inquiry form  or email me at: ashley@creativedestiny.ca and I will contact you within a few days. I will also add you to my email list for updates and specials so you can keep in tune with what is going on behind the scenes…trust me, you won't want to miss out!
Spaces will be limited for my complete stationery packages so please make sure you inquire early.
SAVE THE DATE for the Atlantic Wedding Showcase on October 18th, 2015 at the Cunard Centre, Halifax.  I will be setup along with the lovely Krista at Polka Dot Cakes so please mark your calendar so you don't miss out on getting your stationery & cake fix all in one spot!
Creatively yours,
Ashley
Nova Scotia wedding invitations, halifax weddings, NS wedding stationery,  wedding invitations, graphic design, A Creative Destiny.