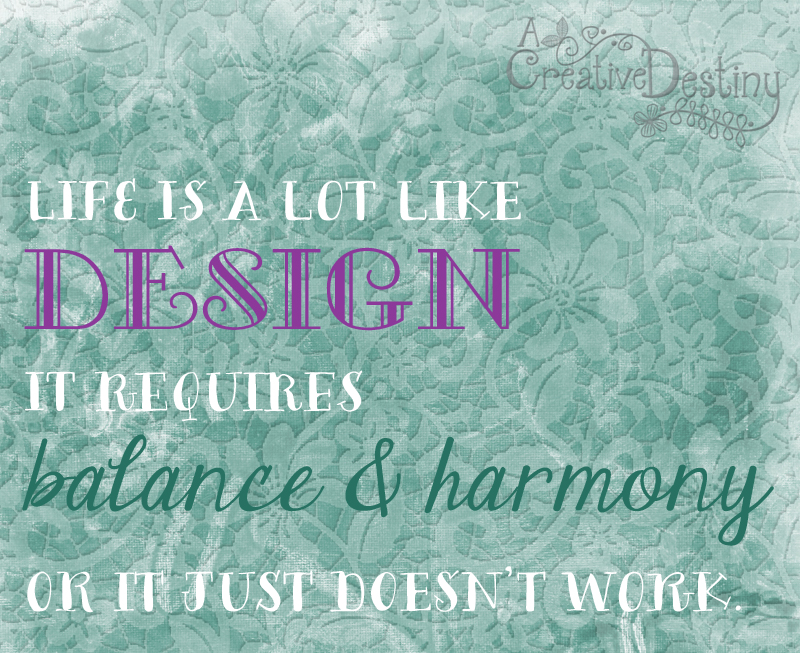 The five elements and principles of art and design was one of the first things that I was taught in graphic design school. Good visual design is all about creating balance, proportion, emphasis, unity and rhythm.The basic principles are one of those things that I understand but sometimes forget how much I am using them. Subconsciously I'm always following these principles, so when a design is not visually what I had hoped, I have to take time to re-think what of these principles may not present.
Recently I started thinking of the principles of design and how they are used in my everyday life. Like good art and design, the elements are always there, I just forget about them. Sometimes when life isn't flowing the way it should, I need to take a step back, take a break and figure out to figure out what I need to do to put things back in harmony with each other.
I struggle with balance on a daily basis. I get asked all the time how I balance self employment with being a stay at home mom. How on earth do I manage to get work done with a busy toddler in the house? HA-HA, unfortunately there is no real answer to this (it's virtually impossible these days). I try to write emails in the mornings, do small projects during naps and tackle large jobs once he's settled in bed or at daycare. I, like other SAHM's have guilt during busy times when I can't give my son 100% of my attention. I keep reminding myself I'm doing this for him, and if I was working away from home full time he would hardly see me at all. I am grateful to be home, attending to his needs, teaching him and having the opportunity to play with him as he grows and develops.
I'm also learning that unity and rhythm really help my daily life flow the way it should. It's all about the little things I do everyday (working, cleaning, playing, cooking etc…) that helps make routine work for my family. When life does get really busy I try to take time to emphasize on the important things. I will take an afternoon break or a weekend away from technology to focus on family time. I'm learning that even though work can keep me busy day and night if I wanted, it's just not possible. I need balance in my life as well as in my designs, whether i'm working, playing with my son or taking some 'me' time…all of the principles are important, all of the time. Technology surrounds us everywhere we go, but just a few hours or a weekend away from my computer gives me a chance to re-prioritize and I end up being more relaxed and productive in my work and home life.
So next time you feel like your life is an abstract painting that doesn't any make sense, step back, take a break and think about these basic elements of design. Ask yourself, how can you apply the elements of design to your creative life to create balance and harmony in your everyday well being.
Cheers!