Today I want to chat a little about wedding planning and your stationery timeline. You most likely have already announced your engagement to your family & friends, picked up a cute wedding notebook and  started planning your dream wedding! CONGRATS!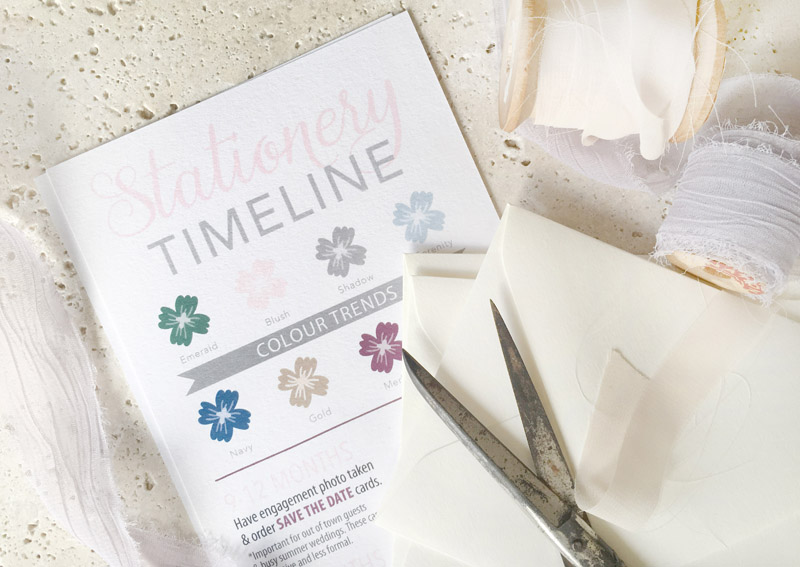 Now that the big and important vendor bookings are out-of-the-way, (venue, photographer, decorator, florist etc.)  You will need to start deciding about some of the finer details. What wedding colours and decor style will you choose? what do you want your flowers to look like? and most importantly (in my opinion) how do you want formally announce your wedding day ON PAPER?
Maybe you're super creative and love the idea of creating your own invitations or maybe the thought of spending hours trying to figure out the design, wording etiquette and dealing with printing problems makes you want to pour a big glass of champagne? (wedding planning should be fun right?!?!)  The look of your invitations really sets the tone for your entire wedding day and provides your guests with a little peek into your style and the magical day you have planned, it's a lot of pressure to make sure you get them just right.

Below you will find my free wedding stationery timeline to guide you on what to send out and when. If you do plan on hiring a stationer (like myself) to help you complete all your wedding paper details I like to start 6-8 months before your wedding so we are not rushed. I typically start discussing 2017 wedding invitations in October once the summer rush is over.  I'm a perfectionist and believe your invitations are a very important element to your wedding day so they should be perfectly planned to ensure everything is uniquely you and  coordinates with the overall look of your wedding day.
If you're still not sure where to start feel free to send me a message. I can give you advice on what you may need or not depending on the wedding you have planned and your guest list which would save you a lot of time and money in the long run.
Best of luck in planning your wedding!
Creatively yours,
Ashley